Gaia Necklace
$133.00 USD

$133.00 USD
Compare to $192.00 USD Estimated Retail
Fair Pricing
Here's a secret that jewelry retailers don't want you to know: the price a retailer sells a piece of jewelry for is often up to 10 times (!!) the cost of making the jewelry. Great deal of them, not a great deal for you.
At Linjer, we sell directly to our customers, cutting out the unnecessary costs and crazy markups that make typical fine jewelry extremely expensive. We pass the savings on to you, so you can get beautiful, high-quality jewelry at a fraction of the normal price.
🌎 We Ship to 41 Countries We Ship to Hong Kong! We Ship to Singapore! We Ship to Australia! We Ship to Canada! We Ship to the UK! We Ship to the US! We Ship to Norway! We Ship to Sweden! We Ship to Denmark! We Ship to France! We Ship to Germany! We Ship to Malaysia! We Ship to Spain! We Ship to Italy! We Ship to the Netherlands!
Here comes the sun! The gold vermeil medallion on this delicate chain will bring a touch of boho warmth to your look. Pendant is 20 x 14mm. 2 necklace length settings: 20" and 22".
Materials
Gold Vermeil

This piece is true gold vermeil. It has 925 silver at its core and is plated in a thick layer of gold measuring 2.5-3.0 microns. (This is 5 times thicker and longer-lasting than regular "gold-plated" jewelry.) We use 14k gold for its beautiful, elegant hue.
View Details >
Customer Reviews
Write a Review
Ask a Question
Filter Reviews:
design
Linjer
birthday
Sigrid Necklace
jewelry
mother
settings
jewels combination
lengt
my fav piece
My mother gave me a Linjer jewels combination for my birthday, and this is my favourite piece. The lengt is really nice and I love the adjustable settings, such a smart design. I choose this necklace together with the Sigrid Necklace, but I am sure it can be worn on it's own or together with other jewelry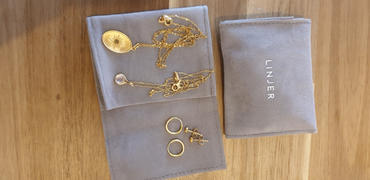 July 2020
Accessible Pricing
Enough with 10x markups! We price our products fairly so you can enjoy the finer things in life, every day.
Quality Materials
Handcrafted 925 Sterling Silver, 14k Gold Vermeil, Real Freshwater Pearls. You can trust that you're getting the best quality for your money.
Handcrafted with Love
Each piece is handcrafted by artisans, and our stones are all sourced ethically.